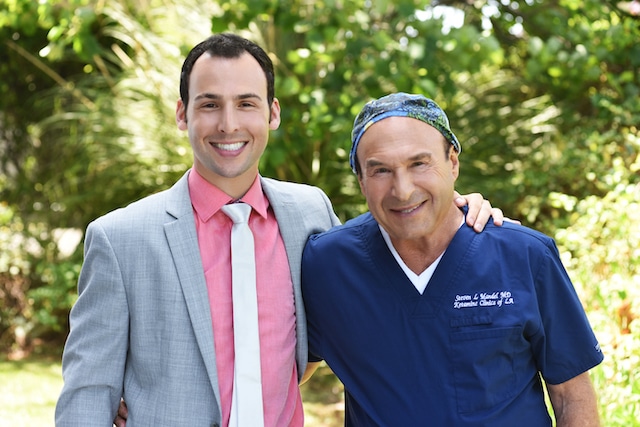 A Ketamine Clinic Near Me: Ketamine Clinics Los Angeles
Over the last 7 years, Dr. Steven L. Mandel and Sam Mandel, the founders of Ketamine Clinics Los Angeles have delivered thousands of ketamine IV treatments. For both of them, their interest in the use of ketamine to manage mental wellness goes back over a decade and a half. Our hope at Frshminds is that after reading about their history and success stories, you'll consider ketamine IV as a viable treatment option for you or a family member.
1. What got you interested in using ketamine in practice?
Dr. Steven Mandel: In the early 2000s, ketamine began to be discussed as a reliever of treatment-resistant depression and PTSD. I was an anesthesiologist with a background in clinical psychology. I was instantly captivated by the possibility of this novel treatment for relieving depression. Depression is the leading cause of disability in our country. Ketamine infusion therapy was proven to treat patients who had not benefited from any of the traditional treatments with a 71% efficacy. I was super excited about the possibilities. I studied the research findings and provided infusions to several patients. It was remarkably effective. By 2014 I had transitioned my practice from anesthesia to giving this amazingly effective treatment full time.
Sam Mandel: I have experience from an early age with friends and family who were struggling with depression, addiction, and suicide and have experienced the damage these afflictions cause. When I was 13 I volunteered for Teen Line, a teen-to-teen suicide prevention hotline. I underwent training and began taking calls from teens in crisis. That was my first real exposure to formally supporting people dealing with suicidal thoughts and depression.
This work is personal for me. When Dr. Mandel approached me about his desire to start providing Ketamine Infusion Therapy, and I looked into it, I saw overwhelmingly positive results in the clinical research. There were naysayers of course, but the numbers regarding safety and efficacy were all remarkable. I had been a patient advocate since I was a teen and I immediately saw the opportunity to make a positive difference doing something I am passionate about. It was also exciting to work alongside my father. Co-founding and running Ketamine Clinics Los Angeles has been one of my greatest sources of joy and greatest accomplishments of my life.
2. What makes your practice special?
Ketamine Clinics Los Angeles is outstanding from several points of view. We were among the earliest Ketamine Clinics to open in the US. We opened in 2014 and quickly became very busy. To date, we have provided over 13,000 infusions. This depth of experience, second to none, has enabled us to master the nuances in optimizing this unique treatment. We have been exclusively dedicated to this treatment full-time since we opened. This was unheard of when we started and is still uncommon today.
We've pioneered and innovated many aspects of this treatment that have since become widespread and regarded as best practices. We've established and maintained an 83% success rate in treating mood disorders for more than 7 years now. We have a compassionate, dedicated team of 10 full-time staff. We worked long and hard to find, hire, and train the right people so we can provide the highest quality, personalized, and compassionate care. I have built the practice to be especially technologically advanced to ensure a seamless and convenient treatment journey. KCLA is the first and only Ketamine Clinic to be accredited by AAAASF, the gold standard in the accreditation of facilities.
We initiated and still lead in developing and implementing the highest patient comfort and safety standards. The fact that KCLA was founded by a father and son duo, who maintain it as a family-owned and operated business that has earned its outstanding reputation among peer clinics and patients is definitely special. We have over 200 five-star reviews and are world-renowned for our therapeutic success and patient satisfaction. Our numerous celebrity patients credit us for restoring their moods and helping to keep their overwhelm at bay.
Dr. Steven Mandel is the founder and was the first president of The American Society of Ketamine Physicians, Psychotherapists, and Practitioners (ASKP3), which is an international non-profit dedicated to the safe, ethical use of ketamine for mood disorders and pain conditions. He is an active board member. KCLA is recognized all over the world by clinicians and patients for our role in optimizing this unique treatment and spreading awareness of it, speaking at conferences, appearing in the media, and demonstrating our knowledge, experience, and passion in film, tv, radio, podcasts, and print. Dr. Mandel is regularly acknowledged for his genuine compassion and passion in this field. I could continue on; let me know if you want more.
3. How do you see psychedelic medicine and therapy evolving in the future?
Psychedelic medicine is rapidly evolving and becoming part of mainstream care. Several promising medicines are on the verge of becoming available for use in patients. MDMA and psilocybin are the two furthest along on the path to approval. Insurers are increasingly reimbursing for ketamine infusions as they are realizing that it saves them money. Patients are coming out of the shadows and advocating for the widespread availability of this lifesaving treatment because it works so quickly and effectively. The stigma patients face for being depressed and suicidal is fading now that collective awareness and understanding are increasing and there is a fast, effective treatment available. So too is the stigma regarding ketamine, as its transformative and lifesaving properties become more widely known.
4. What's the one piece of advice you would offer to patients considering ketamine to help them manage their mental health?
Choose a provider with lots of experience who puts you first. Everything else is secondary. This is a safe, effective treatment when provided correctly. Educate yourself on best practices. Look at reviews online and other sources that can verify if the provider you are considering. Ask them and their staff lots of questions and listen to see if they are knowledgeable and compassionate and take the time to answer your questions and get to know you. Make sure their answers are consistent. If you feel you are getting a hard sell or being pushed, go somewhere else.
5. What are the most remarkable changes you have seen in patients who have taken ketamine to manage their mental wellness?
Every person's transformation is remarkable to her/him. It may not seem remarkable to a casual observer, but it is special to that person and those of us who helped bring it about. Some of the numerous changes which do look dramatic include:
The woman who paid for her infusions for suicidality with what she called her "funeral money." She was planning to die by suicide and had saved up for her funeral to not burden her sons. She decided to spend some of these funds on ketamine infusions instead. She was completely relieved of her suicidal thoughts; she took her sons on holiday with some of the remaining funds.
The entrepreneur who sold his firm for many millions and took to his bed, too depressed to continue being a husband and father, to manage his assets, or to get any pleasure from his bounty. He came to us two years later, having tried and not benefited from virtually all of the traditional treatments. He was transformed by ketamine infusion therapy. His ability to participate in life and experience pleasure was restored.
The 72-year-old man who came to us with disordered eating having not benefited from 6 week stays at 3 of the country's most prominent eating disorder clinics. He was dying by suicide, with starvation as his method. He came to us during covid. He was immunocompromised, but he came anyway because he was 6'2" and down to 109 pounds. He could no longer walk unaided. His doctors said death was imminent. A year later he weighs 147 pounds. He and his wife both say, "he eats like a normal person." His guilt and phobias around eating and fatness are gone. His wife says, " he even takes me to restaurants and enjoys it."
The new mother who came to us suicidal and consumed with guilt and shame for her lack of energy and disinterest in her new baby. She is restored to enthusiastic new motherhood and says about suicide, "I can't even imagine what I was thinking. I am so grateful for this; so is my husband."
There are thousands of stories like these.
Learn more about Ketamine Clinics Los Angeles at their Frshminds listing or the Ketamine Clinics Los Angeles website. You can also find them on Twitter at @ketamineclinics or Instagram at @ketamineclinicsla.

—
Frshminds' "A Ketamine Clinic Near Me" series profiles mental health professions involved in the administration of ketamine for mental health and wellness.