The Best Ayahuasca Retreats: Where to Find Them
So, you're ready to try ayahuasca. You've read crazy stories about travellers whose lives have been forever altered by it. Maybe you've even heard tales from friends. You understand that going on an ayahuasca trip is not to be taken lightly, and you're ready to do your homework in order to find the best Ayahuasca retreat for you.
You've come to the right place! Frshminds.com has created an extensive database of psychedelic retreats, many of which are Ayahuasca retreats. We've reached out to retreat founders, learned about their missions and journeys, and gathered information about a multitude of retreats around the world. In doing so, we've gained the knowledge and context needed to evaluate and select an Ayahuasca retreat.
Frshminds.com is a passionate believer in the benefit of psychedelic medicines taken mindfully and in a context designed to optimize growth. To that end, we'd like to share with you some of our favorite Ayahuasca retreats. This list has been curated with an eye toward including a diverse range of retreats, all of which offer something unique. We hope you find something here that resonates.
Pisatahua: Excellent Ayahuasca Retreat in Bolivia
We feel strongly that this medicine is essential in terms of the changes it can bring to humanit

Erik Taylor, Co-Founder
Picture this: You're in the literal Amazon. Birdsong punctuates the space around you. You inhale deeply, taking in the smells of the world's vastest rainforest. You're here to do some real work on yourself, and you feel held and supported by mother earth herself.
Pisatahua makes this thought experiment a reality. Located smack dab in the Bolivian Amazon, this is one of the most unique and authentic retreat centers we've come across.
People come to Pisatahua to take Ayahuasca in a setting as close to its original context as possible. Set on 80 hectares of private land on the Aquicuana reserve, the nearest town is a full hour away.
All of the shamans who offer support to ceremonies at Pisatahua are respected community members with decades of experience. They bring with them their diverse backgrounds from wisdom traditions of the Amazon and Andes.
Another unique aspect of this center is their strong commitment to the human and non-human environments around them. Although many retreat centers infuse environmentally-friendly practices into their work, Pisatahua has taken it to another level.
Co-founder Erik Taylor explained that "perhaps the most important intention [they've] laid out is to do well by the community and by the land". While building the center, the founders also established a reserve that protects 50,000 acres of land, and they have a number of projects underway that support the local community.
Previous participants at Pisatahua's retreats have healed autoimmune disorders, beaten addictions, and even overcome fertility issues. Participants come from all over the world to turn inwards and work on themselves within Pisatahua's truly authentic and breathtakingly beautiful center.
Temple of the Way of Light: Excellent Ayahuasca Retreat in Peru
Deep, long-lasting healing can only occur when heavy / blocked energies are cleared. This is the essence of plant spirit healing.

Matthew Watherston, Founder
"I first went to the Amazon to experience ayahuasca at the beginning of 2007, in order to address chronic psycho-emotional issues I had been experiencing for many years," says Matthew Watherston, founder of Temple of the Way of Light, when asked what inspired him to start a psychedelic retreat. "I attended an ayahuasca retreat two hours away from Iquitos solely with the intention to heal my personal traumas. Unexpectedly, on the 2nd ceremony I received a vision to develop a healing facility to support other people struggling with similar issues to myself."
Experienced healers descended from an Amazonian lineage. Long, comprehensive retreats. Scientific backing and involvement in research. The Temple of the Way of Light features all of this and affords its guests a phenomenal experience as a result.
When retreat participants arrive, they are greeted by 175 hectares of rainforest land which is home to both the retreat center and a flourishing permaculture project. Most retreats are between 9 and 14 days, which allows for deeper work than the standard 4-7 days usually offered elsewhere.
Once onsite, participants are guided through a series of ceremonies. Their journey is supported by ayahuasca and other healing modalities such as energetic massages, individualized plant remedies and vapor baths.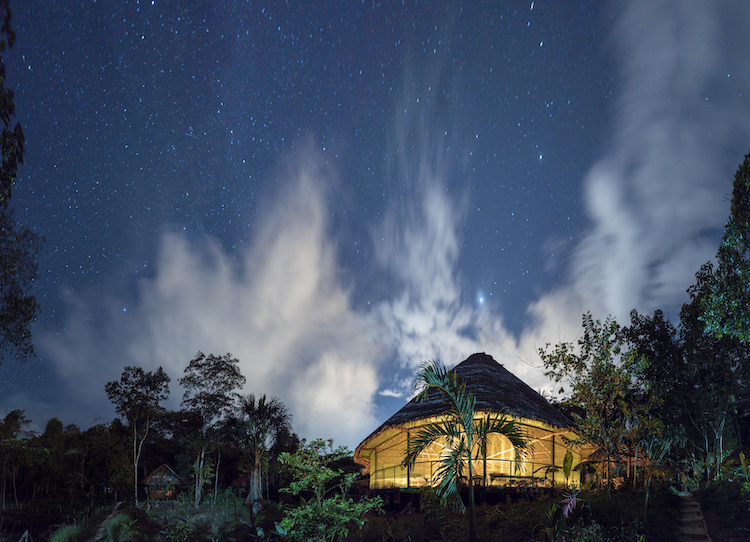 This center is also known for their research; they hosted a study onsite between 2015 and 2019. This research helped demonstrate that ayahuasca can be used to treat anxiety, depression, PTSD and grief, and significantly improve quality.
Temple of the Way of Light has been endorsed by leading trauma expert and bestselling author Gabor Mate and by plant medicine expert and author Chris Kilham. We, too, enthusiastically endorse the temple's work.
Colibri Garden: Excellent Ayahuasca Retreat in Colombia
What inspires me about [ayahuasca] is the power [it has] to connect or reconnect us with our power, with our ability to create life as we want it, and to become primary agents of our reality.

Ivaylo Govedarov, Founder
Colibri Garden is set in the small, homey municipality of Santa Elena, Colombia. Its proximity to the city of Medellin makes it ideal for those who feel most comfortable experiencing Ayahuasca somewhere in context, but relatively well-developed and with the amenities of a big city nearby.
We chose Colibri Garden for this list due to its focus on integration. Many retreat centers offer integration activities as a part of the retreat itself–and that's important. However, Colibri Garden maintains that the ceremonies themselves are "50% of the work" and that part of their responsibility is to "teach you practical tools that you can take back home and apply in the ceremony of everyday life".
In service of this goal, in addition to onsite integration work each retreat includes two group integration sessions via Zoom. However, the truly exceptional offering is customized, private integration coaching sessions done remotely after leaving the center.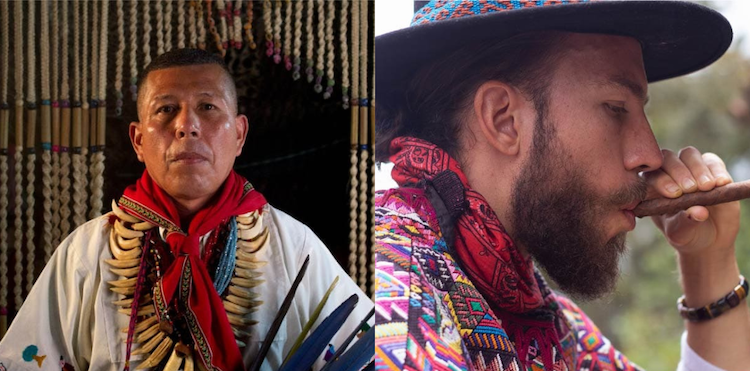 When you go overseas to take Ayahuasca, you leave your normal context, do intense inner work, and plant new seeds. However, the work of coming back home and actually taking forward the insights gleaned during an ayahuasca retreat is a real challenge. Integration coaching is among the most effective ways to stay accountable for continuing the work begun on retreat.
If you want to make sustainable changes and think you could use some support in doing so, we recommend going on a retreat at Colibri Garden and then signing up for their integration coaching services.
New Life Ayahuasca: Excellent Ayahuasca Retreat in Costa Rica
"Ayahuasca was the only thing I had ever experienced in my life that helped me change the way I viewed the human experience. As a lifelong agnostic, it was my first understanding of 'God' and spirituality."

Jeanae White, founder of New Life Ayahuasca
Before they discovered ayahuasca, Founders Jeanae and Matthew used to struggle with heroin addiction. They had tried seemingly everything in the book, from traditional treatments available in the US to Ibogaine in Costa Rica. After banishing their addictions through encounters with ayahuasca, they opened a thriving retreat center in the lush, green countryside of small-town Costa Rica.
We met in 2014 in Costa Rica at an ibogaine treatment center. It was my first time using plant medicine, but Matthew had already done ibogaine in 2011 which was documented on HBO's VICE tv. Unfortunately, he ended up relapsing shortly after that treatment and was back in Costa Rica to try again.

JEANAE WHITE, FOUNDER OF NEW LIFE AYAHUASCA
New Life Ayahuasca offers all-inclusive 7-day/6-night retreats with 3 ceremonies as well as 5-day/4-night retreats with 2 ceremonies. Regardless of which format is selected, each participant undergoes a rigorous medical intake by phone prior to arrival so that the staff is aware of their medical history and knows how best to keep them safe. All ceremonies at New Life's (absurdly gorgeous) retreat center are preceded by yoga and meditation in order to help participants get into a grounded headspace. Integration and sharing circles are also a key part of the program post-ceremony.
NLA is ideal for the following types of participants:

-Anyone seeking to free themselves from addiction(s): Since the founders both have personal experience using ayahuasca for this purpose, they are ideally suited to support and inspire others.

-Females: "We are a husband and wife team of ayahusqueros, and I think that helps a lot of female participants feel safe, given the prevalence of sexual abuse allegations within the psychedelic community," says Jeane White, founder of New Life Ayahuasca, when asked what make their retreat unique.

-Westerners: Jeanae and Matthew come from a Western background and understand the struggles and demands of living in a Western culture. They are also adept at bridging the gap between foreigners and local staff.
-Those who prefer small group sizes: Each cohort contains a maximum of only 14 people, which allows the founders to get to know and support everyone on an individual basis. In ceremonies themselves, there is a facilitator/participant ratio of 3:1.
-People who like creature comforts: Many retreat centers are quite rustic, but the facilities at New Life Ayahuasca are sleek, modern, and more luxurious than most.

-The environmentally-conscious: Despite the fancy appearance, everything at NLA has been deliberately designed with ecological sustainability in mind. Each roof harvests rainwater for use in the food forest, no trees were felled during construction, and recycled materials are used whenever possible.
Summary
As always, it's of utmost importance to check for yourself which center is right for you. Remember to trust your gut, take your time, and ask questions. We hope this list will provide you with direction. Good luck on your psychedelic voyages; may they be filled with insights, revelations, and integration!
---
Related Articles
Learn more about Ayahuasca on Frshminds:
---