Must Read Info About Ayahuasca Retreats in Peru 
More and more countries around the globe offer plant medicine havens, and everyone knows ayahuasca retreats in Peru are the mecca of plant medicine seekers. Plant medicine retreats typically involve a series of ceremonies in which participants consume Ayahuasca, or other psychedelic medicine. Ayahuasca is a powerful psychedelic brew made by combining 2 plants. Traditionally, ayahuasca is used by indigenous, Amazonian cultures for spiritual and healing purposes. Experienced shamans or facilitators often lead ayahuasca retreats. The retreats may include other activities such as yoga, meditation, and group therapy.
Legal Status of Ayahuasca Retreats in Peru
Know that ayahuasca use is fully legal in Peru (Are Psychedelics Legal in Peru?), and is one of the few countries in the world to protect the indigenous and ceremonial use of ayahuasca. Peru does not operate in a legal gray area like various other countries. Going to Peru alleviates any legal repercussions of using ayahuasca. Yet, it is still of the utmost importance to conduct thorough research and due diligence when considering an ayahuasca retreat to attend. Additionally, a consultation with a healthcare professional is good idea. Potential risks and contraindications (certain pre-existing medical conditions and/or pharmaceutical prescriptions) associated with ayahuasca use may prohibit participation.
---
Related Articles
Learn more about Ayahuasca on Frshminds:
---
Ayahuasca "…is only legal in Peru as long as it is used as part of a spiritual ceremony and under the strict supervision of a shaman." The active ingredient in ayahuasca, DMT (dimethyltryptamine), is a controlled substance in most countries around the world. Ironically, DMT is illegal in the United States, due to its controlled substance status. However, Ayahuasca, and the two plants that comprise it, are legal, placing plant medicine law confusing and among the most irrational. Peru does not suffer from these legal pretzel knots.
In fact, Peru supports a robust commercial ayahuasca market. The necessary plants are bought and sold across Peru, with a large hub in Iquitos. It is not uncommon to find powdered ayahuasca in Iquitos or even bricks. Iquitos alone supports a robust ayahuasca market for its 120 ayahuasca centers nearby.
---
Related Infographic: Ayahuasca and The Shipibo-Conibo Tribe
---
How to Select an Ayahuasca Retreat
When thinking about going on an ayahuasca retreat in Peru, always do your homework. Ensure the retreat is safe, reputable and that you'll be in better hands than the Dalai Lama. Altered states render you vulnerable so establishing maximum trust is a must. Please keep several things in mind to use as criteria when researching ayahuasca retreats in Peru or anywhere else.
Here are the seven key factors to consider when vetting retreat centers:
Qualifications and Experience: Do the facilitators or shamans leading the retreat have sufficient, provable, and credible qualifications, training, and experience? Look for facilitators or shamans who have extensive experience working with ayahuasca and have been trained in traditional Amazonian practices. Most good shamans will have studied in the Amazon/Peru with a native shaman who passes down their wisdom, thus continuing their ayahuasca family lineage.
Safety protocols: What safety protocols are in place? Find out what measures are in place to ensure the safety of participants, such as screening for contraindicated medical conditions and/or pharmaceutical prescriptions, having emergency medical personnel on-site or not, and having strict guidelines for participant behavior. Screening interviews via phone, video call, or email before the retreat are a good indication of a trustworthy retreat. In order to ensure a safe and fulfilling experience, it's important to be in good physical and mental health while having realistic expectations about the experience before participating.
Setting: What is the setting of the retreat? The retreat should be in a safe and isolated place, with an appropriate environment for the ceremonies. The more embedded in nature the retreat center is the better. Also, take the accommodations into account. Consider the type of accommodations offered, and whether it aligns with your preferences and budget. You may sleep in a hammock draped in a mosquito net or a queen size bed with 900 thread count, Egyptian cotton sheets. There should be plenty of bathroom facilities (anything from dry composting outhouses to full-service bathrooms) and the food served during the retreat should be clean, organic and additive free.
Cost: Be heads up that retreats vary in price to a great degree. Make sure you understand what is included in the cost. Be aware that lofty prices may have you shelling out more for luxurious room and board than actually getting deep, psychospiritual healing.
Reviews and Testimonials: Research the retreat by reading reviews and testimonials from previous participants to get a sense of their experiences and satisfaction. Better yet, speak with the shaman or facilitator beforehand, to quell any concerns, doubts or fears. Do not rely solely on online reviews. Talk with people in real life who have either participated or know the shaman/facilitator. Better yet, speak with the shaman directly. Some people will bad mouth a retreat center, while others go there and have a perfectly fine experience. The more digging you do, the better.
Ethical practices: Research the center's approach to ayahuasca use, and ensure that they adhere to ethical and cultural practices. Furthermore, does their business model ensure the preservation of indigenous traditions by paying local shamans and cultivators fairly? Or is the business model extractive and not supporting local economies?
Integration: Look for retreat centers that provide integration and aftercare services. Integration is far more important than the ceremony itself. Water is to a seed, as integration is to ayahuasca. Ayahuasca ceremonies can have powerful effects, both physically, emotionally and psychospirtually. The resulting state of mind may cause someone confusion about their direction in life. Or a feeling of disorientation in regard to their former reality may arise.
The Cost of Ayahuasca Retreats in Peru
The cost of an ayahuasca retreat in Peru can vary widely depending on the location, duration, and amenities of the retreat. On average, a one-week retreat can cost anywhere from $1000 to $3000. Some of the luxury retreats can go up to $5000.
The cost typically includes accommodation, meals, and the ayahuasca ceremonies. The cost may also include additional activities such as yoga or meditation classes, or cultural excursions. Do keep in mind that this doesn't include the cost of transportation. Often Westerners must fly into Cusco, then take a shorter domestic flight to Iquitos perhaps, which may in turn include a passage by boat.
Some retreat centers may offer scholarships or sliding-scale pricing for those in need. It's worth keeping in mind that a cheaper retreat doesn't necessarily mean a better retreat. The key is to do thorough research and choose a reputable retreat center. Make sure that the retreat center aligns with your personal values and has experienced staff, regardless of the cost.
Top-rated Peruvian Ayahuasca Retreats
With 120 ayahuasca centers just around Iquitos, there are almost too many ayahuasca retreat centers in Peru to count. Thus, it can be difficult to know which ones are reputable and high-quality. Here are a few ayahuasca retreat centers in Peru that have received positive reviews and have a quality reputation:
Soltara Healing Center – Tarapoto
At Soltara Healing Center in Tarapoto, Peru, they believe in the need to encompass the emotional, energetic, and spiritual aspects of healing and their mission is to empower each guest to bridge the gap between mind, body, and spirit and become more fully embodied, integrated, and connected versions of themselves.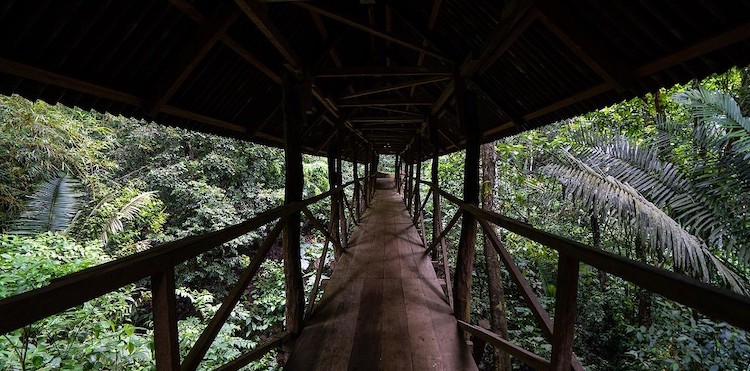 Soltara's lush sanctuary, located in the high mountain Amazon rainforest, provides guests with a framework for them to dig deep, uncovering the energetic roots of blockages, self-limiting beliefs, and negative programs that hold them back. Soltara's decades of experience holding ceremony and medicine work provide in-depth healing in a safe and loving environment.
At Soltara, they work with indigenous Peruvian Shipibo female and male healers who have decades of experience working at ayahuasca retreats in the Peruvian Amazon. Additionally, they offer an integration platform, The Maloca (themaloca.com), which provides:
Resources
Support
A private social space
A network of curated practitioners /teachers
Regular monthly events
Sharing circles
Opportunities for reciprocity and collective healing.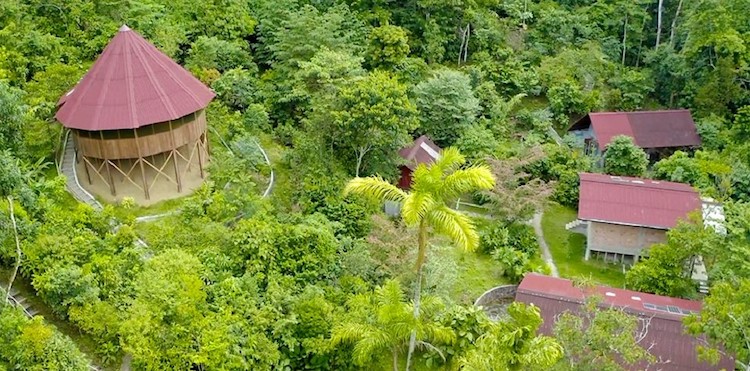 The Temple of the Way of Light
This retreat center is located in the Amazon rainforest. The Temple of the Way of Light offers a variety of programs including ayahuasca ceremonies and plant dietas, as well as integration and aftercare services. They have received endorsements from prominent people such as Dr. Gabor Mate, a world-leading trauma expert, and Chris Kilham, author and plant medicine expert.
Blue Morpho
This retreat center is located in the Peruvian Amazon. The center offers a variety of programs, including ayahuasca ceremonies and plant dietas, as well as integration and aftercare services. Blue Morpho boasts of a proprietary ayahuasca recipe spanning 7 generations. Moreover, they have stout press coverage including National Geographic, The New York Times, Time and Oprah Magazine. Maybe after doing a retreat here, you will transform from a caterpillar to one of the most beautiful butterflies in the world?
Paititi Institute
This retreat center is located in the Andes mountains. They offer a variety of programs, including ayahuasca ceremonies and plant dietas, as well as integration and aftercare services. The Paititi Institute describes its mission as "…the Preservation of Environment and Indigenous Culture is a Peruvian non-profit devoted to the integration of indigenous wisdom." The center does everything from breathwork programs, dream work using a transpersonal, Jungian approach, to sacred geometry workshops.
Inkan Kena
This retreat center is located in the Amazon rainforest two and a half hours from Iquitos, including a 45 minute hike into the jungle. Inkan Kena offers a variety of programs, including ayahuasca ceremonies, plant dietas, integration and aftercare services, as well as plant baths, vapor baths and medicinal remedies.
Please keep in mind that this is not an exhaustive list and there are many other ayahuasca retreats in Peru. It's important to do your own research and choose a reputable center that aligns with your personal values and has experienced staff.
---
Related Articles
Learn more about Ayahuasca on Frshminds:
---