Why Are There Psilocybin Retreats In Mexico? 
It's fitting there are so many psilocybin retreats in Mexico as the country is considered the birthplace of their use.
Every ceremony I've led has been nothing short of an amazing transformation. In my experience, if a person is properly prepared and their intention is rooted in reverence and respect for the medicine, transformation is imminent for the people I serve.

Rio, Founder, Mexico Psychedelic
Psilocybin retreats in Mexico are having a moment. With public interest in psychedelics increasing in the United States and the West, Mexico has become an attractive destination for psychedelic wellness. The combination of proximity, cost, and robust history, make Mexico a no-brainer for top psychedelic retreat destinations.
In fact, psilocybin in Mexico isn't anything novel at all.

Psilocybin mushrooms (also known as magic mushrooms) occur naturally in many countries around the world. The psychedelic substance psilocybin has been used in traditional and ceremonial settings for centuries if not millennia. Mexico's history of psychedelic use may be one of the oldest in the world.
3,000+ Years of Psilocybin Retreats in Mexico?
Mexico has one of the richest traditions of ritual and ceremonial psychedelic use, dating as far back as 3,500 years possibly. The Maya people of southern Mexico consumed psilocybe cubensis as well as the Aztecs. The Aztecs called the psychedelic, teonanácatl, or "flesh of the gods." A famous sculpture of the Aztec god of flowers, Xochipilli, depicts a medley of medicinal and psychedelic plants and fungi, including Psilocybe aztecorum. However, neither civilization can claim an older psilocybin tradition than the Olmecs.
The Olmecs predate the Mayans and the Aztecs, and is Mesoamerica's oldest civilization. Pre-Olmec artifacts date back to 1,500 B.C. It comes as no surprise that the Olmecs also used psilocybin in some rather unique ways. So-called, Mesoamerican "mushroom stones" have been discovered that date as far back as 3,000 B.C. Although Christianity, by way of colonial Spaniards, tried stomping out ritual psilocybin use throughout Mexico, the tradition could never be brought to extinction as it retreated into obscure mountainous ravines.
Magic mushrooms in Mexico left the margins of society and exploded into public awareness in 1957. American, amateur mycologist R. Gordon Wasson had heard legends of a mystical mushroom in the mountains of Mexico, in which a woman healed people with the fungus. R. Gordon Wasson travels to Huautla de Jiménez, in the mountains of the Sierra de Oaxaca, Mexico in 1955 and meets the iconic Mazatec curandera, Maria Sabina.
The encounter and subsequent Time magazine cover article two years later would launch magic mushrooms into the stratosphere with a caravan of celebrities making pilgrimages to expand their consciousness with Maria Sabina.
People have been going on psilocybin mushroom retreats in Mexico longer than you can imagine, from the Olmecs to Mazatecs. If experience is the primary criterion in selecting a country for a psilocybin retreat, then Mexico is hard to beat. It's easy to see why retreat centers are sprouting across the country.
---
Related Infographic: 7 Facts about Magic Mushrooms
---
Mindful Tips for Mexican Trips
Psilocybin retreats in Mexico are becoming more common, and some retreat centers offer the use of psilocybin mushrooms as part of a spiritual or therapeutic program. Please keep a few things in mind when navigating the psychedelic terrain in Mexico:
Take care to note that the possession, use, and distribution of psilocybin mushrooms is illegal in Mexico (please see our FAQ – Are Psychedelics Legal in Mexico?). Always be aware of the legal situation before considering attending a psilocybin retreat in Mexico.
Be sure to do thorough research on any retreat center you are considering attending, to ensure that they are legitimate and have a good reputation. Also, check that the retreat center has qualified staff and that they take safety measures.

Approach this experience with caution and understand that any psychedelic experience, including one with psilocybin mushrooms, can be intense and should be approached with the proper attitude and preparation. Have realistic expectations and be aware that the experience may not be exactly as you expect. Be open to the experience and do it in the proper set and setting.
Limited scientific research exists on the safety and efficacy of psilocybin-assisted therapy. Therefore, it is crucial to consider all the risks and possible benefits of such therapy before deciding to participate in it. Consult your doctor about any medical risks and contraindications like pre-existing conditions and pharmaceutical prescriptions.
How Legal are Psilocybin Mushrooms in Mexico?
The General Health Law of Mexico, in Article 245, states that all psychedelic mushrooms are illegal in Mexico. As of 2023 and beyond, possession, use, and distribution of psilocybin mushrooms are illegal in Mexico. The possession of psilocybin is considered a federal crime, so it comes with between 4 and 7 years in prison and a fine. In addition, the sale, transportation, and distribution of psilocybin is also considered a federal crime and is punishable by up to 25 years in prison.
One loophole exists due to Article 195 bis of the Federal Penal Code, which says that "authorities can't prosecute you if your psilocybin mushrooms are for traditional spiritual practices or ceremonies." These laws have helped fuel the burgeoning psychedelic tourism industry in Mexico.
Political and legal psychedelic climates continue changing in Mexico. In 2021, Mexico City's legislature decriminalized the possession, use, and transportation of psilocybin mushrooms and other psychoactive plants. Psilocybin mushrooms remain illegal at the federal level.
Be aware of the legal situation in Mexico before considering taking psilocybin mushrooms or attending a psilocybin retreat there. Additionally, it's important to remember that laws can change over time, and it's important to stay informed about the current legal situation.
How to Choose a Psychedelic Retreat in Mexico
"What I seek to know when working with healers is who they've worked with, where they've traveled, what lineage they are trained in, and whether they are a person of mere 'knowledge' or a person of experiential 'wisdom', offers Rio, Founder of Mexico Psychedelic on how to choose a retreat. "Someone can read all the books about psychedelics, take all the Johns Hopkins and MAPS courses, and be able to write a college-level dissertation on the history and bio-molecular structure of psilocybin and DMT, but until they've sat with the medicine they are serving for a very long time and developed a deep personal relationship with the spirit of the medicine through ingestion, I can't be sure they actually KNOW anything."
When considering attending a psilocybin retreat in Mexico, do thorough research and consider several factors to select the right retreat for you:
Legal considerations: As mentioned before, possession, use, and distribution of psilocybin mushrooms are illegal in Mexico. So it's important to be aware of the legal situation and choose a retreat that operates within the legal framework. Remember, laws can change over time, so stay informed of the current legal situation.
Safety: Safety should be the top priority when selecting a retreat. Research the retreat center and make sure they have qualified staff and take safety measures, such as having emergency protocols in place.
Qualifications and experience of staff: Ensure that the staff at the retreat are qualified and experienced in working with psychedelics and that they have the necessary training and credentials.
Setting and accommodation: Research the location of the retreat and the type of accommodation provided. Consider what kind of setting you feel comfortable in and if the accommodation provided meets your needs.
Reviews and testimonials: Read reviews and testimonials from previous attendees of the retreat to get an idea of their experiences. This can give you a sense of the quality of the retreat and the level of support and guidance provided by the staff.
Cost and length of stay: Consider the cost of the retreat and the length of stay, and make sure they align with your budget and time constraints.
The type of experience they offer: Each retreat center might offer a different type of experience. Some might focus more on the therapeutic aspects, others might focus on the spiritual aspects. Research the center and make sure it aligns with what you are looking for.
How Much Does a Mexican Psilocybin Retreat Cost?
Psilocybin retreats in Mexico can vary in cost depending on 3 main things: length of the retreat, the level of accommodation provided, and the type of experience offered.
Some retreat centers may offer basic accommodation and focus more on the therapeutic aspects of the experience, while others may offer more luxurious accommodation and focus more on the spiritual aspects.
A psilocybin retreat in Mexico can range from a few thousand dollars for a shorter, more basic retreat, to several thousand dollars for a longer, more luxurious retreat.
Don't rely on cost as the lone criterion when selecting the best retreat for you. Safety, the qualifications and experience of the staff, and the setting and accommodation provided should also be taken into account.
Who are some of the Best Psilocybin Retreats in Mexico?
Several psilocybin retreat centers in Mexico have received positive reviews and have a good reputation. Some of the top-rated retreat centers in Mexico include:
Mexico Psychedelic
A psilocybin-based healing center set amidst the picturesque colonial heart of Puerto Vallarta, Mexico Psychedelic was founded by Rio, who was working a high end corporate job and living in NYC when he found his true calling as a healer.
"In reality, starting a public facing Psychedelic Ceremony Space was something I never thought I would do, much less wanted to do, Rio says when asked what inspires him about psychedelics. "In fact, it was something I outright rejected and resisted in the beginning of my path as I had a slight allergy to 'healer/new age/spiritual' types. I ran from this calling, but the universe had other plans, and wherever I ran, there it was, this calling staring me squarely in the face. So I surrendered and started taking mushrooms to heal my own ancestral wounds and trauma".
I regularly see people die to their ego and be reborn into the Truth of who they really are. Their conditioning, trauma, and ancestral wounds fall away, and I witness utter transformation. I see Light pouring from those who go through ceremonies with me. They are reborn, and they do not leave as the same person from when they arrived.

Rio, Founder, Mexico Psychedelic
Rio continues, "At some point, people began to just literally show up in my path and arrive on my doorstep seeking healing from me. I had a huge hang-up on being a 'healer' that I had to get over, and that took several years. I never took money from people in those days, and still don't sometimes, but I always had a heart to lead people to the medicine.
Ascension
Run by Gerardo Urias, author of Taking Back My Mind: My Journey Out of Depression with Psilocybin Mushrooms, Urias is an American who offers psilocybin retreats in Oaxaca, Ascension focuses on cleansing your mind, body, and soul.
Ascension Retreats are for all walks of life, from someone who has just gone through hardship to the CEO who has lost the spark in life. We help put you back on track and teach you how to harness your inner strength and power to manifest your dreams. Healing encompasses every aspect of life and human being on Earth. We love creating safe spaces for intimate, powerful experiences, and witnessing deep transformations every time!

Gerardo Urias, Founder – Ascension Retreats
Ascension is situated organic farm in the Sierra Sur mountains of southern Oaxaca, in Mexico. The accommodations are built out of natural materials and featuring private bathrooms, hot showers, patios, as well as fireplaces. The retreat also has a yoga room, temazcal (heated earth sauna), restaurant, as well as many surrounding outdoor features such as hiking trails and nearby waterfalls complement your experience.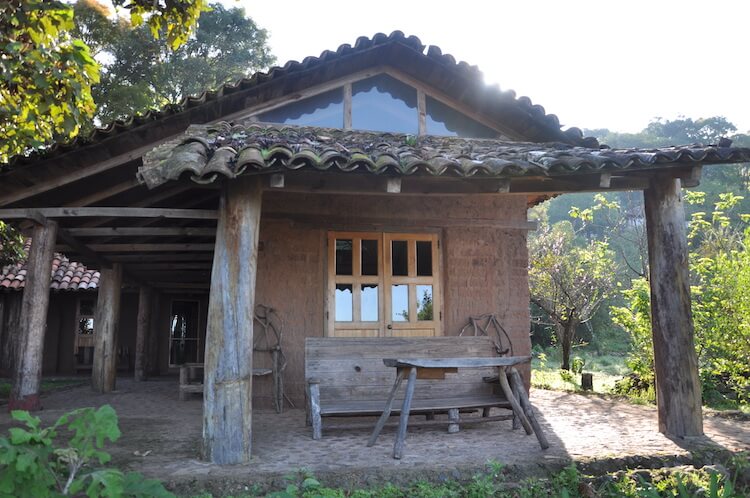 Additionally, Asecension has medical staff on-site, as well as providing retreat staff have first aid training. The retreat offer 1 facilitator for every three participants, ensuring every participant receives the focus and care they need.
Bluaya
A psilocybin mushroom retreat in Playa del Carmen offering psilocybin-assisted therapy in combination with shamanic practices and aromatherapy. They have a team of experienced facilitators and therapists and have received positive reviews from previous guests
Life Synergy
A retreat center located in Playa del Carmen that focuses on providing a safe and supportive environment for people to explore the benefits of psychedelics along with nutritional coaching. They have experienced facilitators and have received positive reviews from previous guests.
Buena Vida Psilocybin Retreat
A retreat center located in Punta de Mita, Nayarit (just outside of Puerto Vallarta) that offers psilocybin-assisted therapy, workshops, and training programs. They have received positive reviews from previous guests.
---
Related Articles
Learn more about Psilocybin on Frshminds:
---