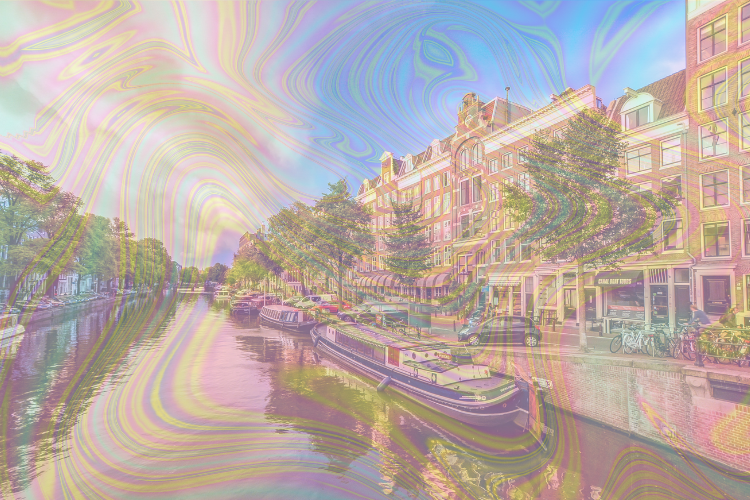 Don't Miss the Best Psilocybin Retreats in Amsterdam
Thanks to the Netherlands liberal stance on plant medicines ("Are Psychedelics Legal in the Netherlands?"), the best psilocybin retreats in Amsterdam are thriving today. Amsterdam has long stood as the Christmas tree topper of the country's lax attitude towards "soft drugs." Some aspects of psychedelic medicine culture have been curtailed in the Netherlands over the years. However, finding a high-quality psilocybin experience in Amsterdam has never been easier. Moreover, the number of people seeking a genuine psilocybin experience has never been higher.
So what does that mean in regard to the law?
How Legal Are Psilocybin Retreats in Amsterdam?
Psychedelic laws have seen a lot of ebb and flow over the decades in the Netherlands, subsequently affecting Amsterdam. Generally speaking, the Netherlands has a tolerant attitude towards psilocybin and magic mushrooms. In a weird twist, a 2008 change of the law made psychedelic mushrooms illegal in the Netherlands. Meanwhile, the same legal finding created a loophole. Now "…the truffles from whence they sprout—also known as philosopher's stones—are perfectly legal…" to this day.
Mushrooms containing psilocin and psilocybin are illegal in the Netherlands, however many less powerful mushrooms were not included on the ban list, and are still legal for consumption. These include the truffles, or less potent parts of the mushroom that grow underground. That said, "…psilocybin remains legal in Amsterdam, and both truffles and spores are legal and easy to obtain."
Considering the lenient stance towards psilocybin in Amsterdam, doing a psilocybin retreat there will not put you in a cop's spotlight. If you do not plan on gobbling a headful of mushrooms and causing an international scandal in the Red Light District, running afoul of the law does not need to be a grave concern.
A 39-year-old yoga mom seeking relief from a midlife crisis and depression isn't going to draw a Dutch swat team on bicycles.
Psychedelic Retreat Considerations
When considering attending a psilocybin retreat in Amsterdam, do thorough research and take several factors into consideration to select the right retreat for you:
Legal considerations: As mentioned before, possession, use, and distribution of psilocybin mushrooms are illegal in the Netherlands. So it's important to be aware of the legal situation and choose a retreat that operates within the legal framework. Remember, laws can change over time, so stay informed of the current legal situation.
Safety: Safety should be the top priority when selecting a retreat. Research the retreat center and make sure they have qualified staff and take safety measures, such as having emergency protocols in place.
I think it is important that you click with the people who are organizing the retreat. You need to feel confident that they will be able to safely guide you. Safety comes as well from the intake process. Is there a health screening beforehand? From the team of guides….Do they have experience? Are they qualified? From the number of guides per person (ideally 2 to 3 participants per guide) and the follow up process. Are you checked on afterwards? Is there access to integration sessions?

Greg Carrette, Founder, True Nature
Qualifications and experience of staff: Ensure that the staff at the retreat are qualified and experienced in working with psychedelics and that they have the necessary training and credentials.
Setting and accommodation: Research the location of the retreat and the type of accommodation provided. Consider what kind of setting you feel comfortable in and if the accommodation provided meets your needs.
Reviews and testimonials: Read reviews and testimonials from previous attendees of the retreat to get an idea of their experiences. This can give you a sense of the quality of the retreat and the level of support and guidance provided by the staff.
Cost and length of stay: Consider the cost of the retreat and the length of stay, and make sure they align with your budget and time constraints.
The type of experience they offer: Each retreat center might offer a different type of experience. Some might focus more on the therapeutic aspects, others might focus on the spiritual aspects. Research the center and make sure it aligns with what you are looking for.
---
Related Infographic: 7 Facts about Magic Mushrooms
---
How Much Does an Amsterdam Psilocybin Retreat Cost?
Psilocybin retreats in Amsterdam can vary in cost depending on 3 main things: the length of the retreat, the level of accommodation provided, and the type of experience offered.
Some retreat centers may offer basic accommodation and focus more on the therapeutic aspects of the experience. In contrast, others may offer more luxurious accommodations and focus more on the spiritual aspects.
A psilocybin retreat in Amsterdam can range from a few thousand dollars for a shorter, more basic retreat, to several thousand dollars for a longer, more luxurious retreat.
Don't rely on cost as the lone criterion when selecting the best retreat for you. Safety, the qualifications and experience of the staff, and the setting and accommodation provided should also be taken into account.
Psilocybin Retreat Centers in Amsterdam to Check Out
Some of the top-rated psilocybin retreats in Amsterdam include:
Synthesis
Synthesis is a retreat center in Amsterdam that offers psilocybin-assisted therapy in a safe and legal setting. They use a combination of traditional and modern techniques to provide a personalized experience for their guests.
SET & SETTING
Jascha Renner says that he started SET & SETTING to fill a void in the market for German language-based psychedelic services and education. As he noticed that while there is more and more information available about psychedelics, there was nothing really good in German.
For me, psychedelics are tools, like shortcuts, for finding a way to yourself. Of course you will be able to do it without them, but if done correctly, they accelerate your personal development, healing and spiritual journey to new heights.

That's what psychedelics did for me. Well, actually, I wasn't really prepared for it when I first took some LSD. I thought, well, that's gonna be interesting. Little did I know that they will rapidly change the way I think, feel and connect in the years that followed.

Jascha Renner, founder, Set & Setting
When asked if he could tell a prospective visitor one story about an amazing transformation he saw as a result of his retreat, Renner says he was really inspired by a man who came to the retreat with a long-term cigarette addiction.
"In his journey, he was basically forced to face a deep shadow of his, the breakup with his girlfriend 5 years ago," Renner recounts. "It was painful. But it was real. Afterward, he shared that he learned that stuffing down this pain for so many years was actually the reason for his addiction. He never smoked again to this day."
For me this is such a perfect story about what psychedelics do. They confront you with what your subconscious is normally too afraid to face. Then you feel it through, integrate it, and you feel like there has a lot of weight been put off your shoulders.

Jascha Renner, founder, Set & Setting
Alalaho
Alalaho offers safe, legal, and supportive Psilocybin-assisted Retreats in a rustic, nature-filled atmosphere in Amsterdam.
New Moon Retreats
New Moon Retreats offer safe and legal Psilocybin experiences near Amsterdam, in The Netherlands.
True Nature
True Nature describes itself as a "personal growth catalyst" for "high-end psychedelic experiences and retreats for highly ambitious people." Professional climbing the corporate ladder? Well, then this might be for you.
Founded by Greg Carrette after facing the challenges of his own recovery from burnout in 2019, he says that he has witnessed many amazing transformations in those attending his retreat, including a successful entrepreneur who, despite his success, was still a very insecure human being, hiding behind his success as an entrepreneur.
During his trip, he realized his potential, accepted his shortcomings, and left the retreat happy with who he was, confident to take on the world. He accepted himself and no longer needed the entrepreneur persona he had created.
"I think we will move towards a model with classic medicine and psychedelics, both of which should go hand in hand with extensive psychotherapy," Greg responded when asked how he saw the role of psychedelics evolving within the larger healthcare landscape. "My sincere hope is that people who decide to play in the psychedelic space do so because they want to revolutionize mental health care and not because they want to get rich from it."
Psychedelic Insights
Psychedelic Insights boast one of the better reputations in Amsterdam. They state that "Change happens when people hurt enough, they have to; When they see enough they are inspired to; That they learn enough that they want to; And when they receive enough, that they are able to." Through their psilocybin retreat "…deep introspection, subconscious reprogramming, inner child work, feeling deeply, trauma perspective changes and healing psychedelic insights," can occur.
A Whole New High
A Whole New High offers professional, one-on-one, psychedelic therapy sessions. Their sessions include deep emotional support, a transformational experience, guided meditation, anxiety relief, depression relief, and an optional integration therapy session among other things. A Whole New High has received glowing reviews from clients.
Inward Bound
Inward Bound is located an hour away from Amsterdam, Inward Bound retreats offer "…a luxury venue situated in a nature reserve." If you're in need of pampering, "the authentic 19th-century Dutch farmhouse accommodation provides the perfect setting…" with a private room and lots of places to relax, meditate and stroll in nature.
It's important to note that these centers may operate outside of the legal framework. Thoroughly research and verify the legality of these centers in the country. Additionally, stay informed about the current legal situation. Remember that laws can change over time. Always approach a psychedelic experience with caution. Understand that any psychedelic experience, including with psilocybin mushrooms, can be intense and must be approached with the proper mindset and preparation.
---
Related Articles
Learn more about Psilocybin on Frshminds:
---