Overview
Mushroom Tao offers a 7-night psilocybin retreat in the hills outside Dominical, Costa Rica. Mushrooms brought salvation to our founders, Leti and Chi. Plant medicines aided their new focus on self-care. This helped them develop a new, stronger foundation and ability to empathize deeply with fellow travelers. And then they wondered aloud what would be the best way to apply themselves, to help the world in the way that they themselves had been helped. Mushroom Tao was their answer. The concept resonated with them and spoke to the essence of who they are as people. Leti and Chi continue to seek guidance from the Mushroom Spirit and the Tao, learning to flow with life in joy, peace, and balance.
Having operated for years in the Netherlands as 'Truffle Therapy,' Mushroom Tao invites you to a luxurious campus in a lush jungle, with incredible locally sourced cuisine, infinity pools, spectacular landscapes and room to sit, think, and find balance.
Our retreats are always private, never group. Join us and receive nothing but our complete, devoted attention as we introduce you to the way of the Mushroom. Your journey begins with an at-home preparation regimen for several weeks before your departure. We continue to support you with at-home integration sessions after you have left us. Integration is of the utmost importance to us, and we know how difficult it can be to retain your newfound wisdom and eschew old habits.
As your facilitators on the psilocybin journey, we support your experience as kind, silent witnesses to whatever unfolds naturally. We listen and hold a judgement-free container where you feel comfortable and safe to be vulnerable and let go of control.
We allow you and the mushrooms to work together, as you remember to trust your Inner Healing Intelligence to lead the way.
‍The location of our retreats changes from time to time, but we think you'll be pleased by your surroundings and able to absorb the energy of the jungle. You are in an area of Costa Rica famous for its green, with beautiful vistas, wildlife, waterfalls, and the energy of all living things.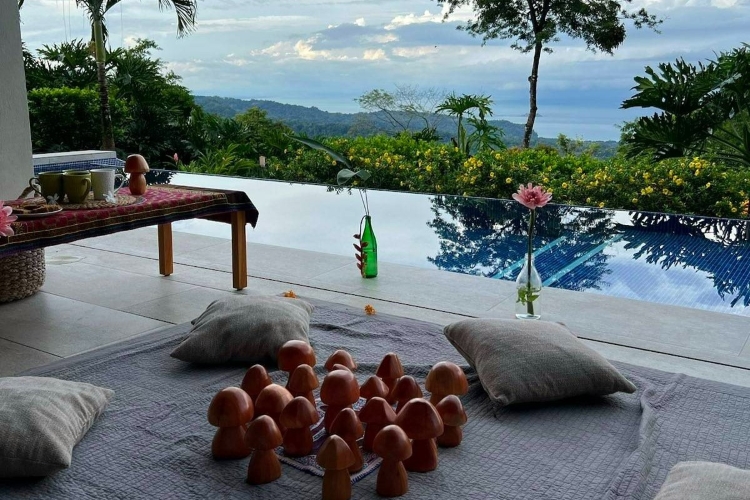 Highlights
Multi-week program : the private retreat program is a personalized multi-week process comprising three phases at home preparation
At home integration
Luxurious villa immersed in the lush costarican jungle
Intimate, kind and safe space