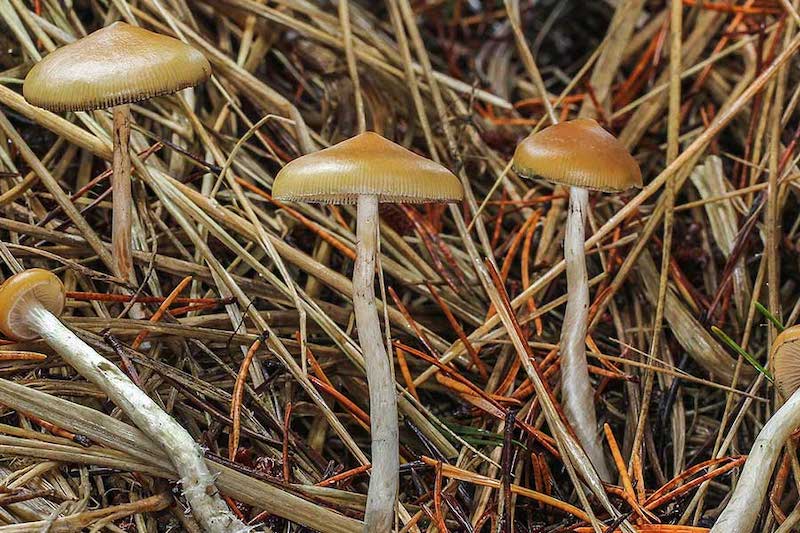 Psilocybe azurescens Magic Mushrooms
Psilocybe azurescens: Background
Psilocybe azurescens magic mushrooms were first discovered in 1979 by a group of Boy Scouts in Oregon, near the mouth of the Columbia river. They soon realized its potently psychoactive properties and began isolating and cultivating them. It was officially classified in 1996 by renowned mycologist and psilocybe expert Paul Stamets in his publication "Psilocybin Mushrooms of the world". The name Azurescens is derived from the blue, or "azure", bruising often present on the stipe (stem/stalk) of the mushroom. Coincidentally it it also the name of Stamets' son. On average it is the most potent tryptamine synthesizing Psilocybe mushroom, containing up to 1.8% psilocybin, 0.5% psilocin, and 0.4% baeocystin by weight. The concentration of these psychoactive biochemicals in P. Azurescens is up to 3x that of P. Cubensis and P. Cyanescens. They produce intense visual hallucination, profound journeys into alternate realms of consciousness, and more rarely induce temporary paralysis.
Psilocybe azurescens: Habitat
Psilocybe azurescens magic mushrooms are a very sporadic and uncommonly found psilocybe mushroom, unlike the plentiful semilanceata. It fruits naturally in only the Pacific Northwest region of the U.S. but grows vigorously within this habitat.
Psilocybe azurescens: Taxonomy/Naming
Common Name
Flying Saucers, Blue Angels, Blue Runners, Azzies
Psilocybe azurescens: Physical Description
Pileas
The cap (pileus) of Psilocybe azurescens is 30–100 mm in diameter, conic to convex, expanding to broadly convex and eventually flattening with age with a pronounced, persistent broad umbo; surface smooth, viscous when moist, covered by a separable gelatinous pellicle; chestnut to ochraceous brown to caramel in color, often becoming pitted with dark blue or bluish black zones, hygrophanous, fading to light straw color in drying, strongly bruising blue when damaged; margin even, sometimes irregular and eroded at maturity, slightly incurved at first, soon decurved, flattening with maturity, translucent striate and often leaving a fibrillose annular zone in the upper regions of the stipe.
Gills
The lamellae are ascending, sinuate to adnate, brown, often stained into black where injured, close, with two tiers of lamellulae, mottled, edges whitish.
Spore Print
The spore print is a dark purplish brown to purplish black in mass.
Spores
Stipe
The stipe is 90–200 mm in length and 3–6 mm thick, silky white, dingy brown from the base or in age, hollow at maturity, and composed of twisted, cartilaginous tissue. The base of the stipe thickens downwards, is often curved, and is characterized by coarse white aerial tufts of mycelium, often with azure tones. The mycelium surrounding the stipe base is densely rhizomorphic (i.e., root-like), silky white, tenaciously holding the wood-chips together.