Earth Awareness psilocybin retreat in Teuge, the Netherlands, was started by Maya van Oosterhout and Mark Huser after they met working in a smart shop selling magic mushrooms where they were properly introduced into the Western approach into psilocybin. If you are looking for:
New personal and professional insights
More creativity and flexibility
A break from everyday life
Guidance on creating a more rewarding life,
Then a private ceremony in the Nature Temple at Earth Awareness psilocybin retreat in Teuge, the Netherlands maybe just what you need
In 2007, we were asked to host some shaman tribes from South America. That's where a long collaboration with many indiginous shamans from all over the world started. We hosted and assisted in their shamanic ceremonies at our location for about 8 years. The ceremonial setting, was in our eyes the missing ingredient of our Western society, sharing in peace and honesty. This was all so inspiring that we've kept on evolving the place until it grew out into a trustworthy psychedelic retreat centre.

Maya van Oosterhout, Co-Founder
In 2012, after 7 years intense training and collaboration with shamans and plant medicine-keepers from all over the world, we started our own psilcobyin mushroom ceremonies. In 2012 we started building the Nature Temple because we felt the calling to offer the most unique psychedelic experience of the Netherlands.
All of our ceremonies occur in the NATURE TEMPLE, a unique, off the grid, experience space is designed for ceremonial use and is the ultimate setting to explore altered states of consciousness. Our centre, which has facilitated ceremony for thousands of people since its founding in 2004, is situated in a unique forest-village and is an exceptional bird paradise. Built using straw, clay and cord-wood construction techniques, the Nature Temple combines a range of building styles, with elements from an earth-ship, a hobbit house and a log cabin.
It is a unique sight to behold.
Overview
The Nature Temple is a 1500 sq foot (140 m2 square) structure built out of thick trunks, curly branches, clay, and colored glass.
The building's geodesic dome measures over 20 feet in diameter.  During the day, sunlight streams in, allowing you to watch the rays of light shine through the surrounding trees.  At night, the dome functions as a portal to the sky through which you can watch the celestial bodies at night.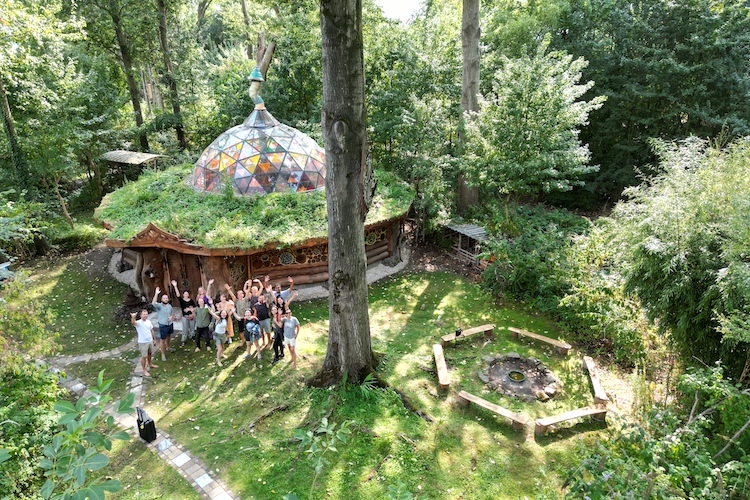 The temple is built from more than forty types of wood and each type of wood tells its own story, both physically and symbolically.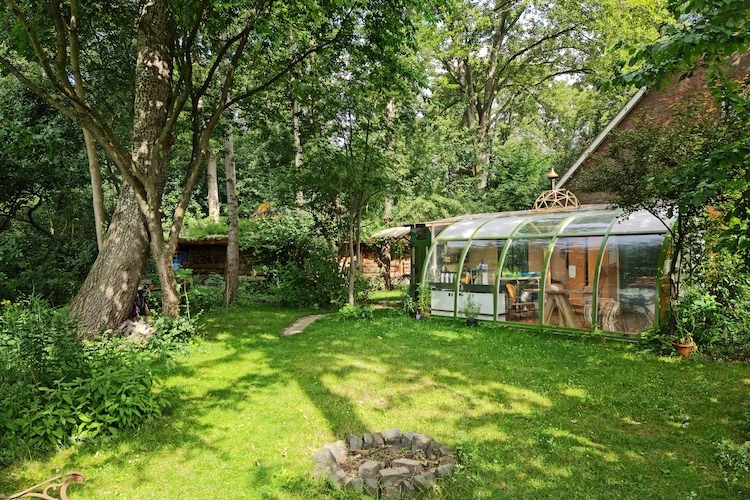 Staff and Founders
Maya van Oosterhout and Mark Huser are the creators of the Nature Temple and the Earth Awareness Centre.  They have been working with psychedelics since  2006 and are experienced space-holders and caretakers.  All of our experience is hands-on.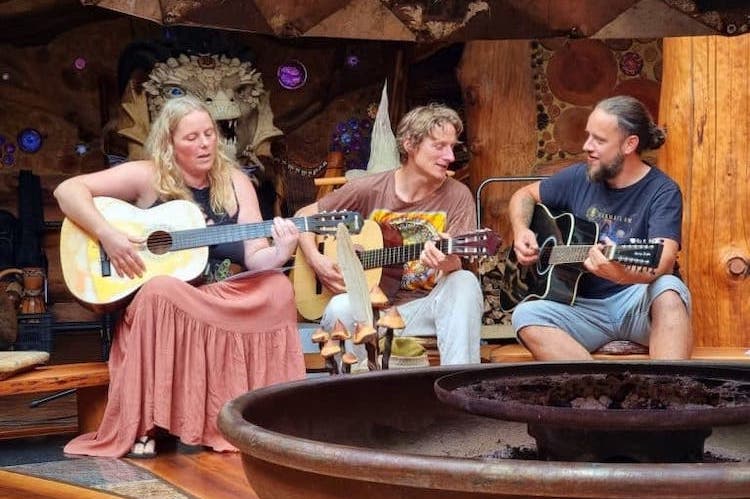 ---
Name: Maya van Oosterhout
Position: Facilitator
Professional History: From the Netherlands, Maya, a mother to 2 grown-up children, provides clients with an empathic and creative approach. She is non-judgmental and provides a supportive attitude to people, making them feel at ease quickly. An accomplished musician, Maya sings enchanting songs and plays various instruments.  Exceptionally knowledgeable in both body and emotional work, she is an incredible positive influencer on sustainable lifestyles.
---
Name: Mark Huser
Position: Founder
Professional History: Born in the Netherlands, Mark is both the director of Earth Awareness and architect of the Nature Temple.  A multi-talented person with great vision and a proactive attitude, he has an incredible understanding of the use of sacred plants as a tool for transformation.