The Ayahuasca in Colombia retreat, located in Fredonia, Colombia, offers fixed price retreats for groups of between one (1) and five (5) people, as we know a large group retreat isn't necessarily for everyone. The retreat was founded by Sam Believ, who started drinking Ayahuasca to get help recover from depression and it was on one of his journeys, the medicine showed him that he had to work with it, helping others, so he started the retreat.
According to Believ, "Psychedelics are natural for humans and every culture used to have their own. Western society lost theirs, and with it, their roots, this is why our society is like headless chicken. Psychedelics offer a connection to earth, to God and different ways to look at things…not to mention their healing capacity. Psychedelics seem to be the only way out of the mental health crisis we are in."
Overview
Located a 60 to 90 minute drive south of Medellin, through the rolling green hills close to El Cinco, Antioquia. The elevated finca sits on 5 hectares of land, providing an expansive view of the green mountainous valley below.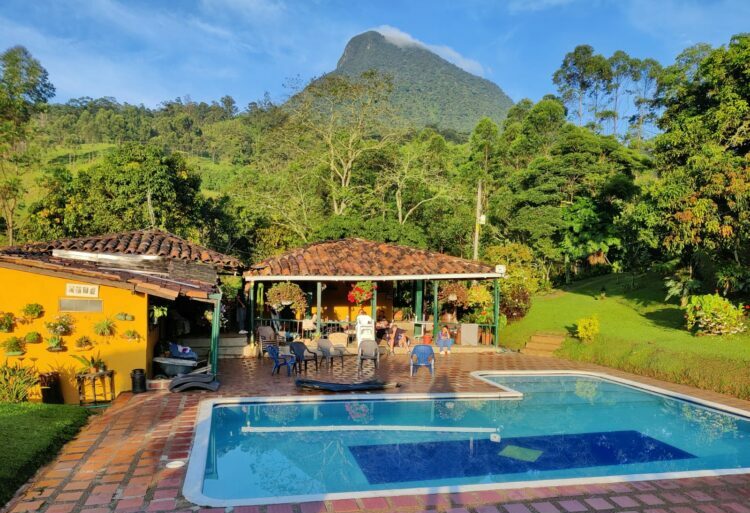 Behind the property, there is also a running river you can explore in your downtime.
Staff and Founders
Our Taita (also called a shaman), is Taita Gonzalo, an Elder from the Inga Indigenous community in the Putumayo jungle area of the Colombian amazon,  never worked outside of the jungle prior to his work with Ayahuasca in Colombia. Taita Gonzalo comes from a long lineage of traditional medicine people, devoting his life to healing, working with and growing the plants and brewing Ayahuasca.
The support team at Ayahuasca in Colombia provides a supportive space so you can explore your path with Ayahuasca in a comfortable setting.  Our team members, hailing from around the globe, speak Spanish, English, Spanish,Russian and Latvian and have experience working with Ayahuasca.
Highlights
Five (5) Ayahuasca ceremonies, three (3) night ceremonies and two (2) day ceremonies.
Taita personally grows, cultivates and cooks medicine from the Colombian amazon.